Kenya Rural Roads Authority(Kerra) has awarded three roads to Ichagaki ward through MCA Charles Mwangi Nga'ang'a.
Ichagaki one as he is popularly known is the current chairman of Mount Kenya MCAs caucus.
During an interview, MCA said that he has been pushing for the roads since he was elected.
Among the roads that he lobbied include Kianjirui-ini Wamuteme Kibiriri, Kiamakumi Githigi Githuya and Kibiriri kamucheru.
"The construction of Kibiriri kamucheru road which is 4 km will start next week and upon completion, it will highly boost the economy of the area as it will ease the movement of goods as well as people," he said.
Maragua MP Mary Waithira Wamaua was on Friday in a mission to launch and commission development projects in Maragua.
Among the roads she listed in her Facebook account to have launched are St Mary Gathunguri, Ikuyu Mugumoini road which is 3.5 kilometers.
She also claimed to have kick-started the rehabilitation and improvement works of Kamucheru~Maishamathi~Itheru 3.3Km access road.
Ichagaki MCA Charles Mwangi Nga'ang'a addressing the locals
"Today in company of the Constituency Roads Committee(CRC), we embarked on the rehabilitation works of two separate roads in Ichagaki," she said in a statement.
The post in her page shows her CDF staff at Ichagaki Ward but her photo is missing a move that has informed area MCA Charles Mwangi Nganga alias Ichagaki one to claim that she failed to physically attend after Kerra officials failed to accompany her since she never lobbied for the project.
Ichagaki One says the MP was guilty of visiting the Ward since she had no loci standi to face the people and tell them she lobbied for the project.
The MCA who has come out gun blazing accuses the MP of reaping where she did not sow maintaining that it was him who lobbied for the projects.
Mr Mwangi said he was planning to launch the projects on Monday but the MP only rushed to commission the roads after she realized he was in an official duty in Mombasa.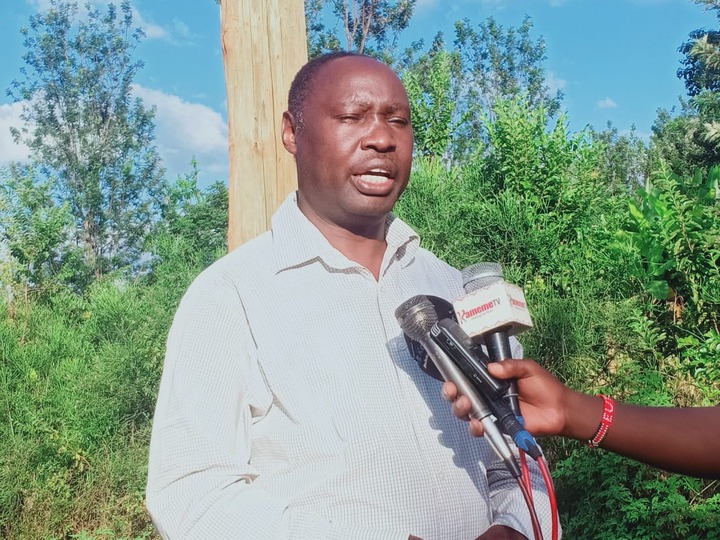 Ichagaki MCA Charles Mwangi Nga'ang'a
"Its regrettable to find an elected leader who can't negotiate or lobby for a project in Maragua, I doubt her skills to even negotiate a plate of rice in government, I lobbied for the projects she launched in Ichagaki and I have the records," Mr Ichagaki One laments to our political desk.
He says he wrote the proposal for Ichagaki Kipiriri Wamuteme road, MOW Itheru Kwa Jeremiah, Ikuyu Mugumoini and Kiamakumi Githigi roads and that he has made constants visits to Cs James Macharia's office, Ministry of Water and Irrigation (to lobby for Kianjiruini borehole) as well as the County government offices to champion the rights of his electorate
"Its absurd that the MP could launch the projects while I was planning to launch them on Monday, to me she is an activist with no leadership charisma," Mr Ichagaki One lamented.
But he says he has no problem with the MP coming to launch the project as long as his people are getting development projects.