Kenya is set to deploy the Kenya Defence Forces (KDF) to the Democratic Republic of Congo on a peacekeeping mission.
According to a statement from KDF, the deployment aligns with an agreement between East African Community heads of state in a proposal tabled by former President Uhuru Kenyatta in June 2022.
Uhuru, then Chairperson of the EAC, proposed the formation of an East African Stand-By Force constituting military personnel from all EAC members.The EAC decision was aimed at quelling threats posed by M23 rebels in Eastern DRC and other militia activities in the region.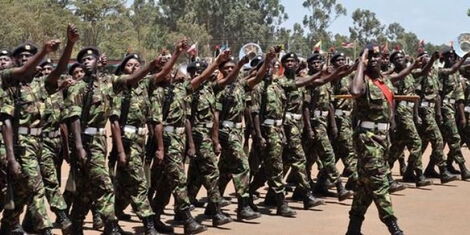 A file image of Kenya Defence Forces (KDF) officers during a pass-out parade.
FILE
However, the deployment of forces in DRC was delayed as tension in the EAC's largest nation escalated.
"Deployment of Kenyan troops to the DRC follows a decision endorsed and adopted by regional leaders at the third EAC Heads of State Conclave on Peace and Security in Eastern DRC held in Nairobi in June 2022.
"The Conclave agreed to have an East Africa Community Regional Force (EACRF) to quell a flare-up of violence in the Eastern Democratic Republic of Congo," KDF's statement read in part.
The deployment also came amid heightened tension in the Eastern DRC. Burundian President and EAC Chairperson Évariste Ndayishimiye, on Tuesday, October 1, discussed the row with the region's presidents in an attempt to find lasting solutions.
According to Ndayishimiye's spokesperson, the presidents agreed to convene a meeting by all heads of defence forces from the respective EAC members.
He was also expected to convene an extraordinary summit aimed at deliberating and studying the parameters of the joint military operation in DRC.
"His Excellency Evariste Ndayishimiye, President of the Republic of Burundi and current Chairman of the Summit of Heads of State of the East African Community (EAC), had a telephone conversation with his counterparts in the region with the aim of harmonizing the views on the ways and means of managing the security crisis in the East of the Democratic Republic of Congo," Ndayishimiye's Spokesperson stated.