Kenya Power has issued a statement explaining the nationwide power outage witnessed in the parts of the country.
In a statement dated Wednesday, November 2, KPLC explained that it was experiencing a technical hitch and was working to resolve the matter.
KPLC's response was issued after Kenyans raised concerns about the unplanned blackout.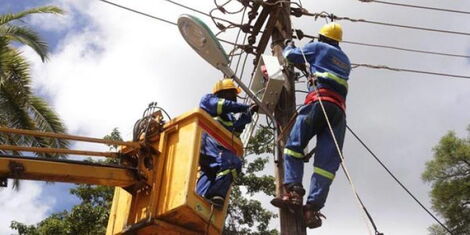 File image of Kenya Power electricians at work
FILE"The area is experiencing a technical fault, and our teams are aware. Any inconvenience caused is highly regretted.
"Please bear with us as we strive to have the issue resolved as soon as possible," KPLC responded to different queries raised.
Some of the parts affected include Nairobi, Mombasa, Nakuru, Busia among others.
However, the power provider did not give the exact time the matter will be resolved.
KPLC promised to provide timely updates on progress made to restore back power.
Earlier, Kenyans had taken to social media to query why KPLC had not informed the public in advance.
"Do you consider the businesses dependent on electricity? With no power we cannot operate," Stellah Kamau reacted on Twitter.
"Right now there's a business somewhere making millions of losses," KigolB echoed.