Make any space minimalistic, modern, and silent with the Logitech Pebble M350 Wireless Mouse, a portable mouse that goes wherever life takes you.
In the world of computer peripherals, Logitech has long been a trusted name, known for delivering quality products that combine functionality, style, and affordability.
One of their latest offerings, the Logitech Pebble M350 Wireless Mouse, follows suit by providing a compact and stylish solution for users seeking a reliable wireless mouse.
In this review, we will delve into the features, design, performance, and overall value of the Logitech Pebble M350 Wireless Mouse.
Design and Ergonomics
The Logitech Pebble M350 Wireless Mouse stands out with its slim and sleek design.
It is incredibly lightweight, weighing in at just 100 grams, making it comfortable to use for extended periods without causing strain or fatigue.
The symmetrical shape of the mouse caters to both left and right-handed users, ensuring a comfortable grip for everyone.
The Pebble M350 features a minimalistic and modern design, with smooth rounded edges and a matte finish.
Available in three subtle color options: Off-White, Graphite, and Rose, it can easily blend in with any workspace or personal style.
Its compact size makes it highly portable, fitting comfortably into pockets, bags, or laptop sleeves, making it an excellent choice for on-the-go professionals or students.
Connectivity and Battery Life
The Logitech Pebble M350 Wireless Mouse connects to your computer via Bluetooth or a small USB receiver.
With Bluetooth connectivity, you can connect to your devices without the need for any dongles or receivers, providing a clutter-free workspace.
The mouse pairs quickly and easily with devices supporting Bluetooth technology, allowing you to seamlessly switch between devices.
Alternatively, the USB receiver provides a reliable connection with a range of up to 10 meters, ensuring uninterrupted performance.
The receiver is small and can be stored inside the mouse when not in use, reducing the risk of losing it.
When it comes to battery life, the Pebble M350 shines. Logitech claims an impressive 18 months of battery life on a single AA battery, making it incredibly convenient for users who are always on the move.
The mouse also features an on/off switch, further optimizing power usage and extending battery life.
Performance and Tracking
The Logitech Pebble M350 Wireless Mouse offers smooth and precise tracking, thanks to Logitech's high-precision optical sensor.
The smooth organic shape feels great in your hand and is compact enough to fit easily in your pocket or bag.
Thanks to its extra slim design and soft rounded sides, you can work comfortably in a cafe, library, or even a crowded taxi.
You'll get the same satisfying "click" feel you love with 90 percent less noise. Even the wide rubber scroll wheel glides in silence, disturbing those around you less.
With a resolution of 1000 DPI, it delivers accurate cursor control on various surfaces, including desks, tables, and mouse pads.
The responsive and fluid tracking makes navigating documents, web pages, and creative projects effortless.
Additionally, the minimalist and contemporary look will suit any workstation.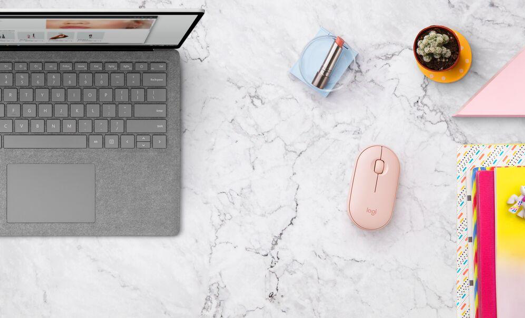 The Logitech Pebble also goes into a battery-saving sleep mode when not in use, keeping it powered for up to 18 months.
The mouse features three standard buttons
left-click, right-click, and a clickable scroll wheel.
The scroll wheel provides both horizontal and vertical scrolling, allowing for easy navigation through long documents or webpages.
While the Pebble M350 does not have extra programmable buttons or customizable features, its simplicity is part of its charm and makes it an excellent option for those who prefer a straightforward and reliable mouse.
Software and Compatibility
Unlike some of Logitech's higher-end mice, the Pebble M350 does not require any additional software to function.
It works seamlessly with major operating systems like Windows, macOS, ChromeOS, and Linux, allowing for hassle-free plug-and-play functionality.
However, Logitech's Options software is available for download, which allows you to customize some functions such as cursor speed and scroll wheel behavior.
Value and Conclusion
With its compact design, stylish appearance, and reliable performance, the Logitech Pebble M350 Wireless Mouse offers excellent value for its price.
Priced competitively, it provides a reliable wireless mouse solution for casual users, students, or professionals who prioritize simplicity and portability.
Its long battery life, comfortable ergonomics, and versatile connectivity options make it a versatile choice for both home and office use.
While it may not have all the bells and whistles of higher-end gaming or productivity mice, the Logitech Pebble M350 Wireless Mouse excels in delivering a comfortable and reliable user experience.
Whether you're working on a laptop in a coffee shop, giving a presentation, or simply browsing the web, this mouse will prove to be a dependable companion.
In summary, the Logitech Pebble M350 Wireless Mouse is an excellent choice for users seeking a compact, stylish, and reliable wireless mouse.
With its sleek design, reliable connectivity options, impressive battery life, and smooth tracking, it offers a great combination of features at an affordable price point.
If you value simplicity, comfort, and portability in a mouse, the Logitech Pebble M350 Wireless Mouse is certainly worth considering.
Click and scroll in style with the Logitech Pebble M350 Wireless Mouse.
Silent clicking and scrolling means you can stay focused without disturbing those around you.
Connect the Logitech Pebble the way you want – via either Bluetooth® or the USB receiver. The mouse is available in white, blue or rose color options