Evangelist Lucy wa Ngunjiri, the esteemed Founder of Prayers Beyond Boundaries Ministries and a well-known Media Personality, is extending an invitation to all Kenyans to mark 17 Years of her Ministry and 10-Year Church Anniversary
The celebration is scheduled to take place on Sunday, August 20th at the PBB ministries at 10:00 AM , situated in the heart of Ngara, Nairobi County.
Speaking during media interview, Evangelist Lucy wa Ngunjiri shared her excitement about the forthcoming event and requested Kenyans of all walk of life to attend.
She noted that the event is set to be a reflection of her inspiring journey and her unwavering commitment to faith and community.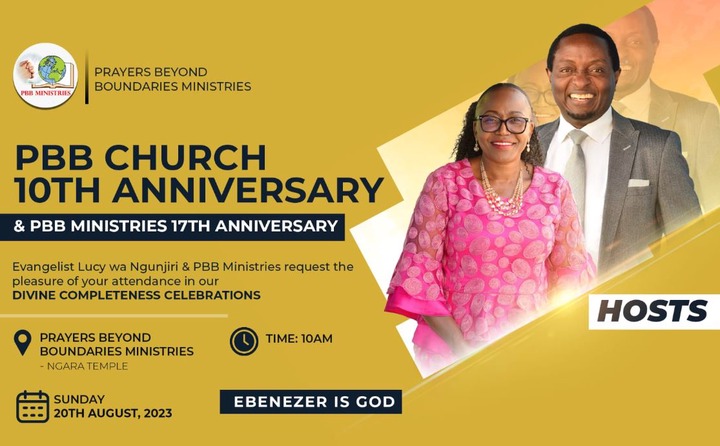 "Allow me to extend my warmest invitation to all Kenyans from every walk of life," Evangelist Lucy expressed, adding that the commemoration will take place at the sacred grounds of the Prayers Beyond Boundaries Ministries (PBB) , nestled in the heart of vibrant Ng'ara, Nairobi County
Evangelist Lucy's impact has reached far beyond the confines of her ministry, touching the lives of countless Kenyans. With a marriage of 28 years and her role as a mother to many, she stands as a beacon of inspiration and compassion, embodying the virtues she advocates.
Throughout her ministerial journey, Evangelist Lucy wa Ngunjiri has become a living embodiment of integrity, resilience, and the transformative power of prayer.
Her story serves as a powerful reminder that when faith is interwoven with tangible action, it possesses the ability to ignite profound and lasting change.
Seven years ago, Evangelist Lucy's name first reverberated across the airwaves of Kenya, amid a notable encounter with Hon Raila Odinga regarding the utilization of Uhuru Park grounds.
She had meticulously planned and secured a permit for a Prayer Rally, intended as a unifying act of devotion for the nation. Distinguished international speakers and musicians were slated to grace the event, promising a momentous spiritual convergence.
However, the currents of politics intervened, disrupting her laid plans. Hon Raila Odinga and the influential ODM party flexed their political muscle, leading to the abrupt cancellation of her permit.
This unforeseen turn of events inflicted not only emotional strain but also a substantial financial setback. The cancellation bore a monetary burden of Kshs 150,000, underscoring the challenges she had to overcome.